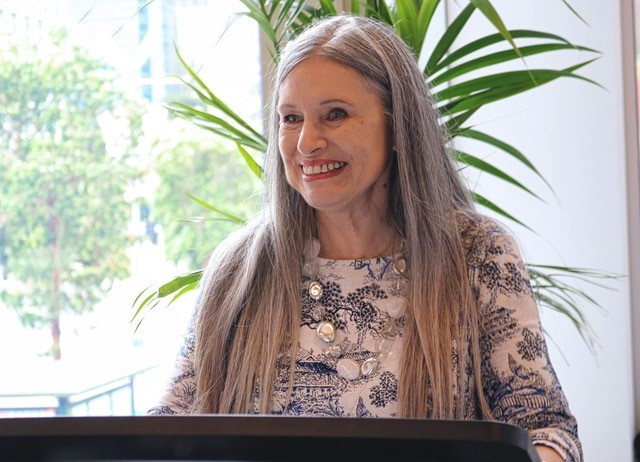 Annamaria Weldon's Report
Thank you all for the opportunity to be your poetry prize judge. It was a privilege to read the poems entered in this year's Bronze Quill Award - in particular, for a woman who by my age has shared so many of the experiences which inspired those poems. However, I believe that they are also poems of universal human experience across cultures and age cohorts, and that for me was the greatest delight. For we are relational creatures living on earth, and so the points of our creative triangles – also the universal signifier of the Feminine - are often determined by the angles between ourselves, a significant other (child, parent, partner, sibling, mentor, historical or spiritual figure) together with our and their place in the world – literally. Again and again in these poems, location (or destination) is destiny!
As well as content to which I could relate, I was alert to voice – that indefinable yet much analysed poetic quality. By which I don't mean poems which sound poetic in the sense of making the reader overtly aware of genre. You probably know what I mean, poems which declaim in exaggeratedly descriptive passages, or which lay on the symbolism or rhymes with a heavy hand. In your entries, poets of the women Writers of WA, there were diverse and authentically creative original voices. Poetry, our holy grail, is that subtle craft of expression rather than the bare retelling of an event, feeling, experience or encounter. Done well, it works on our awareness as a mirror does, when held at an unaccustomed angle reflecting what may be familiar: a face – perhaps even ours, perhaps - or an encounter, or a vista. That clear surface, with a steady hand holding the looking glass, conjures a new angle and insight happens!
Judging a competition of course requires reading many poems several times over, and therefore the ones that stand out are those which stay with you from the start and survive this process. It sounds as though such a poem, or poems, have an advantage from the outset but in practice, I felt bound to really challenge my 'first thought': I treated it as though it were personal bias, and carefully pitted other poems against it.
And so, I awarded the prizes as follows:
Two commended certificates to Helen Iles and Chasing Tadpoles and to Astra Warren and Treasure
Two highly commended certificates to: Rose Van Son and Old Kyneton Hospital 1865 – 2005 and also to Madeleine Tingey and Between Houses
Second prize ($50 and certificate) to Geraldine Day and The Visit
First Prize: (Trophy, $100 and a certificate) to Asha Rajan and Thirteen Ways to Count Your Chickens
Commended
Treasure wins a commended for sheer charm! It treads lightly, as charmers do. It displays twinkling gems of entertaining and endearing bon mots. These are uttered as a turn of phrase, a shared confidence, the glimpse of something possibly otherworldly or at least, magical, rare and rewarding. Innocent and yet thrilling! Its lilting rhythm matches the subject, the metaphors and verbs are delightfully lucid. I'd love to see it illustrated as a children's book!
Chasing Tadpoles impressed me with its pure and genuine voice. It is the kind of poem you could glide through with pleasure in a collection, but if you returned and stayed awhile, it would reward you with its metaphors, its highly visual almost cinematic brushstrokes, its reflective and rather lonely running commentary, so apt to the watery setting, and the feeling that you are sharing an important, even historic moment, however slight and personal the narrative and the players, because it is from a lost time.
The Highly Commended poems were delightful, intricate in their thought patterns.
I awarded two highly commended certificates, and in the case of Old Kyneton Hospital 1865 – 2005, after rating it highly,I turned to Google to look up the original site which inspired the work. But when I read the entry I felt as though yes, I knew this place already from the poem, and so much more! You do always want that 'more' from a poem than from a documented description, and in OKH this is delivered in fine language – 'this flush / country town, paddock // sown on the outskirts / a town grown above / expectations'. Yes, not only ambitions described here, but a reminder of the buried pioneer miners, perhaps? Words elsewhere are chosen with similar care, such as 'rots' and 'void' and 'foreboding' which take us inside the empty shell of the place. I have a liking for the three line stanza. The final one ends with a great line, given the building is now being restored and was once a hospital: 'hands work to keep you alive./.'
Between Houses also has a haunted feeling, is also built on memory, but of a more personal nature and what is possibly more commonly shared setting – suburbia, where houses are close enough to hear what is going on in a neighbouring room, but the garden space between is dark at night. There are no stanzas here in this free verse stream of thought, which is all evocation and mystery. Hiddenness and uncertainty wrap us inside the writer's perception: the poem is as intimate as a story whispered in one's ear by a friend as you both sit around a campfire at night. Voice, that powerful vehicle, is again so present here. It is a conjurer, of the writer's external setting in the dark garden where 'Over the divide twig-thin / branches scrape talons on yellow / square of bedroom window, tiny spiked / silhouettes scratchy against glow./' But also, it immerses us in the writer's internal weather, her state of mind, as she remembers standing there awed and tranced. Highly Commended, highly deserved!
Second Place
The Visit also intrigued me from first reading, for different reasons: I return to Hiddeness as a quality, because like the cryptic crosswords I am learning to love, I was guessing at the precise situation until the fifth, last verse, but had a pretty good idea which grew as I read on, and I felt vindicated by the denoument!
I confess this situation, visiting frail relatives – possibly mum and dad – is one with which I became dreadfully familiar in the first years of this century. So I appreciated the reserve, the emotional control of the poet's voice, which mirrors that eclipse of the self, or of Ego, which such duties and labours of love require of us. It rang so true! In technique, this was the most sophisticated and subtle of the remaining poems. In the first stanza, 'he' who is 'much slower now' has his agency removed, his passivity emphasized, by the use of skilful verbs: buttons resist the fumble of fingers, speech slurs, 'She' is rendered vivid. Aged, stubborn, pained and afraid, in four short lines: the most memorable being' her hip backstitching the pain to her spine'. That is how a poet 'shows' rather than merely 'telling'. Or, as Emily Dickenson wrote: 'tell all the truth but tell it slant' in her poem of the same name – which describes how the power of truth should be offered piecemeal, not in one great outburst. This is what the The Visit does so successfully.
This poem is loaded with subtle pathos. Its atmosphere of bleakness, culminating in the third stanza. would be overly oppressive if it went on but we are deftly rescued in the fourth by the garden's life-affirming details, even though the writer is 'ignored' even by next door's cat. Nevertheless, as they do, the daisies and pansies and rhododendrons bloom, butterflies glide. I am reminded of the universe's indifference to our human dramas, as in the full moon rising over an earthquake ravaged landscape. There is great timing here, and a sense of perspective. It feels like a breath of fresh air.
There is reprieve of another kind in the final, fifth stanza, the home-coming. It is bittersweet. There's the search for the familiar, but also a quietness, an emptiness. We know this experience. It has no resolution, only the consolations we find for ourselves, as in the last line: 'the bathroom's free'.
A very fine poem, only just pipped at the post by a winner with an especially entertaining subject and approach.
First Place
Thirteen ways to count your chickens first sank its claws into my consciousness through a paradox: its chosen form references a well-known literary device but its execution is quite original both in its voice, and in its choice of diverse ways to look at life. There is assonance, imagery, metaphor and rhyme, and the result is that all of these 'ways' are led by language, which wraps the insights in an inventive cloak of sound, sight, and the other senses too – taste, touch, and more obliquely smell (dust baths, tandoori chicken). As you may have guessed, the poem is both ambitious and unpretentious.
Further contrasts within the poem are humour and pathos, there is an initially puzzling word play and contrapuntal use of cliché, the action is full of movement both literal (flying hens, mad aunts chasing her husband with a sickle), and the movement from human to non –human. There is a variety of emotional movement also, perhaps the poem's most fetching quality. I won't quote too much, because I hope we'll have the pleasure of listening to the winner reading her poem, very shortly.
Poet Jane Hirshfield rates hiddenness, uncertainty and surprise very highly as poetic qualities. To invoke a familiar literary trope as Thirteen Ways to Count your Chickens does, and carry it off, demands original points of view, brevity and virtuoso expression. To realise your own version with aplomb is the sign of a confident poet indeed. Very impressive!
Annamaria Weldon
October 30th 2020